OEM
Understanding Your Unique Needs
As an OEM, you know the kind of manufacturing conditions you often face: misalignment, high vibration, extreme temperatures, oil intrusion, emissions, unusually tight confines. In challenging applications for flexible electrical conduit, you need a vendor with the design and manufacturing capability to provide the best solution. Liquatite® conduit by Electri-Flex has earned a global reputation for quality and product innovation.
We also consider exceptional customer service to be essential to your satisfaction. From helping you develop the ideal conduit to providing value-added solutions, we are here to support you. Whether you are working with our engineering team or our nationwide representatives and distributors, you can expect impeccable service from us.
---
Design Experts
As the industry leader in flexible electrical liquidtight conduit, we have the expertise and resources you need, and offer the most diverse electrical conduit line in the world. Although most of our conduits are available as standard products, we have the ability to develop customized products as needed. With more than 55 years of engineering and manufacturing experience, we've solved design challenges in a number of applications, including medical, food, construction, plumbing, computer equipment, electrical and electronic equipment, transportation, and many more.
---
Design & Prototyping Expertise
By working with Electri-Flex early in your design process, you can be assured of reliable, cost-effective solutions that will meet your toughest specification. Our engineering staff can provide you with custom design and prototypes for new or unique applications. We have the design expertise and advanced computer software skills to create the right conduit for any requirement, and we offer advice on fatigue concerns, grounding, environmental issues, physical strengths, chemical resistance, and more.
---
Broad Conduit Offerings
Whether you seek a specialty solution or a modification of our standard products to suit your needs, we can help you. Our Liquatite line offers the world's widest range of conduit and fittings, including jacketed and non-jacketed metallic conduit, non-metallic PVC conduit, and our non-metallic Corrlok® nylon corrugated conduit system. Our high quality, easy-to-install standard and custom offerings can meet such characteristics as:
---
Complete Single Source Manufacturing Resources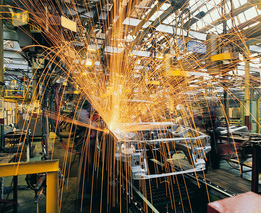 As an innovator in the liquidtight conduit industry, Electri-Flex maintains a leading edge manufacturing facility with streamlined production processes. In this facility, we perform the entire process of manufacturing flexible metallic tubing and conduit with complete extrusion capabilities. This gives us the means to manufacture unique designs, even if they've never been attempted before. In fact, the majority of our production tools and methods were developed in-house to meet your needs. Plus, our on-site production resources promote cost and turnaround efficiencies.
---
Complete Quality Control & Testing
Our vertically integrated manufacturing system gives us complete quality control over every step of the conduit production process, from raw materials processing through assembly. Tests include:
Testing is performed by a team of Quality Assurance experts at each production stage, and during unannounced visits from UL and CSA. Every foot of conduit is tested for proper dimensional characteristics utilizing the latest measuring devices.
---
Superior Construction
Our years of applications experience have taught us how to distinguish a superior flexible electrical liquidtight conduit from a less desirable one. As a result, we have developed design methods for our conduit that help prevent common problems. Our unique construction includes:
More convolutions per foot than other conduit—meaning more steel per foot for greater crush strength.

Advanced Quality Control—ensuring precise I.D./O.D. tolerances for a superior liquidtight connection.

Patented Flexi-bond for non-sleeving, non-wrinkling jacket—improving performance and appearance.

Squarelocked and Interlocked inner metallic strip—providing added mechanical strength and ravel prevention.
---
Providing Flexible Electrical Conduit for Over 55 years
Family owned and operated since its founding in 1955, we've remained focused on the quality, service and partnership values that have made us leaders in the electrical industry. Our innovations have included the premier Liquatite line and other manufacturing patents, as well as numerous packaging improvements.
If you're looking for a cost-effective, high quality conduit for any application, give us a call. Whatever your design challenge, we can provide a solution. Call us today at 1-877-268-3700.
© Copyright 2015-2016. All Rights Reserved. Gross Automation 3680 N. 126th St., Brookfield, WI 53005 M-F 8am-5pm CT